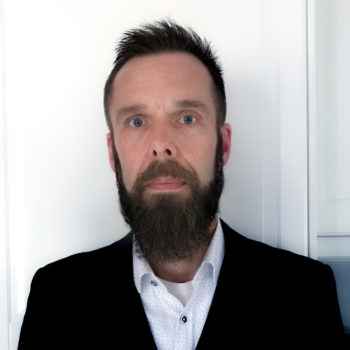 Antti Nurmi, Managing Director of Charles River Discovery Research Services Oy, graduated from the University of Joensuu at the turn of the millennium. Back then, he intended to pursue an academic career. A job announcement in the newspaper Helsingin Sanomat prompted Nurmi to submit an application to the A.I. Virtanen Institute for Molecular Sciences in Kuopio as a doctoral researcher in the field of brain research.
During his doctoral studies, he began working on a project for Cerebricon Oy, founded by Jari Koistinaho and Juha Yrjänheikki, which was later acquired by Charles River Laboratories. At present, Nurmi has over 15 years of expertise in a contract research organization (CRO) and business management.
"I started out as a student and eventually ended up as Managing Director." Although Nurmi points out that this position did not fall into his lap – he actively focused on building his career, networking and creating new roles for himself in the company. "There was also some good luck involved as well."
At the intersection of pre-clinical and clinical research
For nearly two decades, as a CRO, the company's work has brought them in close collaboration with academia and business. This has enabled the team to identify problems in research and drug development from a broad viewpoint and to discover ways to overcome them.
We have not learned enough from clinicians and patients. Greater interaction is needed between pre-clinical drug development and physicians who plan therapeutic options for patients.
Charles River Discovery focuses on research in diseases of the central nervous system, which includes pre-clinical development of drugs and therapies commissioned by client companies. Nurmi and his team have been a part of many success stories in international drug development. "Medicines that are curing and helping people all over the world have gone through our labs here in Kuopio. The knowledge that our work matters, that's a very good feeling."
Nurmi would like to resolve an important issue in research – this drives him not only as a corporate leader but also as a neuroscientist: "The worlds of pre-clinical research and clinical reality are vastly different."
He hopes for stronger interactions and collaborations between academia, hospitals and business enterprises to take advantage of the expertise of physicians. "We have not learned enough from clinicians and patients. Greater interaction is needed between pre-clinical drug development and physicians who plan therapeutic options for patients."
Nurmi believes that this flaw is an important reason for the relatively few success stories – in Finland and worldwide – in drug development for central nervous system diseases. He emphasizes the need to incorporate clinical expertise more robustly and earlier in the process of drug development. It is crucial for the drug development process to have an improved understanding of the disease in order to identify drug candidates that can target biological disease mechanisms more successfully. "Neurocenter Finland is a huge boost in this direction, and we hope that it will successfully promote the identification of feasible interfaces between pre-clinical and clinical research."
Knowledge sharing: A mutual boost
 The success story of Charles River Discovery rests on the team's belief in their work, excellent scientific knowledge, and robust investment in medical imaging. For researchers pursuing their own product or service idea, it is important to consider whether their future lies in working in Finland or abroad. "Finland is well placed to do business. However, if going abroad offers better potential for your own future, it is good to think about whether something from your business can be brought back to Finland later."
Nurmi encourages networking and getting in touch with companies as well as the academic world for opportunities ahead of graduation. "It's a good idea to explore the kind of players operating in Finland and apply for internships or jobs. Even small companies often seek new blood and insights, and in the early stages of a startup, there may be significant opportunities to get involved in developing something new."
Nurmi believes that being a part of a success story of commercialization brings a duty to share one's experiences and guidance for growth. "Brainstorming with new businesses helps the wider community, with mutual benefits. And sharing knowledge does not mean that successful companies lose their competitive position." Nurmi emphasizes that he also gets a lot of fresh perspectives on business management while sparring with new companies.
"Neurocenter Finland is raising awareness of neuroscience research across Finland under a single umbrella, and this is critical for supporting the dissemination of knowledge and good practices," Nurmi sums up – this is the path to greater success for Finnish pharmaceutical and therapeutic development.