Oulu-based Finnadvance is developing organ-on-chip devices that have great potential in drug development. Experts from Neurocenter Finland have helped the company's path to growth.
Organ-on-chip is an elegant biotechnology device utilizing microfluidic technology, in which human cells are grown and form structures similar to the real organ structures. In the credit card-sized chip, cells can be fed with a nutrient solution similar to blood, thus creating conditions for the growth of tissues that mimic various organs. With this product solution, Finnadvance is involved in five different projects, in which the organ-on-chip devices are used to study the treatment possibilities for neurological diseases.
Prateek Singh, the founder of Finnadvance, from India, says that " Here we are creating a new type of platform for pharmaceutical research. When we take samples from patients and the patient's own cells are grown in our chips, we can create realistic test conditions and investigate patient's disease at cellular level."
When genuine human material is used, the use of animal experiments can be avoided; moreover, more accurate results can be obtained.
Robust cooperation with Kuopio's neuroscience expertise with the help of Neurocenter Finland
In Finland, engineering expertise and academic research in neurosciences are at high levels of excellence, but the two fields are very separate and far apart. Combining these two areas of expertise is a prerequisite for the emergence of many solutions.
"It's great to have an organisation like Neurocenter Finland that facilitates collaboration between experts from different fields," says Prateek.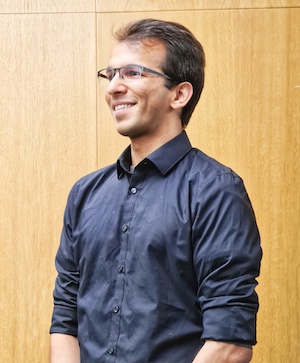 "I have long-term interests in Finland. Finnadvance co-operates closely with Neurocenter Finland that has robust competence in neurology. We can bring our engineering expertise into the picture and create new innovations by combining these two areas of expertise. It would be really fruitful for Finnadvance's research and development activities to have its own laboratory point in Kuopio," Prateek plans.
Neurocenter Finland has helped Finnadvance to establish contacts with various parties: clinical researchers, investors, and several related organisations, including patient organisations.
"Helping Finnadvance has been really rewarding. Prateek's solution is interesting and research-oriented, and it will be interesting to see how this solution will eventually lead to business that attracts large companies," explains RDI expert Jukka Kähkönen from Savonia who acted as Prateek's contact person for Neurocenter Finland.
Finnadvance's organ-on-chip platforms are already being used in a COVID19 study funded by the Academy of Finland, in the VACURE EU ​​project studying vascular malformations, and in a joint project funded by Business Finland investigating the therapeutic possibilities of nanobiomaterials. In addition, the company has received a significant investment of approximately EUR 500 000 from the private equity company Voima Ventures and angel investors.